Cruiser Cart
Compact Cart has plenty of storage for your travels.

Superior marine-grade solid surface top is scratch and stain resistant. The large curves make clean up a snap. Color throughout for long lasting beauty and cleanability

This ergonomic cart has accessories which rise and lower with the top to reduce bending and reaching. The small footprint is easily navigated through congested halls and fits into small spaces at point-o-care

Under-mount Accessories include:

Glove Box Holder provides easy reach from a standing position and at just the right angle to keep excess gloves from falling while dispensing. One or two available per cart
Bin Holder is adjustable to accept sizes from 5-quart to 2-gallon (sharps, chemo waste, haz or non-haz wastes)
Generous size bin for additional supplies, non-contaminated waste, or whatever you wish to take on excursions

Speedy casters enable silent movement over thresholds and onto elevators

Height adjustable from 29&quot to 39&quot will accommodate the smallest to the tallest. Strong yet lightweight for comfortable driving on long expeditions
Versatile cart is ideal all around the hospital -
Phlebotomist - existing supply tray will nest on top with stainless steel barriers for security while in motion &shy keep the organization you already enjoy. The under the top accessories house additional supplies for items too large for a hand basket
Respiratory Therapist - Computer, equipment, and supplies fit onto the cart with ease of organization. Handles double as hanger hooks. Additional storage space below
Task / Computer Cart - Small enough to fit into all areas of the patient room with enough storage and workspace for activities
Hand lever for height adjustment. No tools required.
Top dimensions: 18.5&quot x 24&quot including handle
Glove Box Max: 4.75&quot x 9.75&quot
Bin Holder Max Width: 12.5&quot
Bin Holder Min Depth: 3&quot
Bin: 6.75&quot x 13&quot
Top is constructed of solid surface marine-grade high density polyethylene. It is environmentally stabilized to eliminate warp, rot and delaminating. Simple wipe up cleaning with all common hospital solutions.
Not intended as an exam table. Not a seat
Patent Pending
---
Phlebotomy Cruiser Cart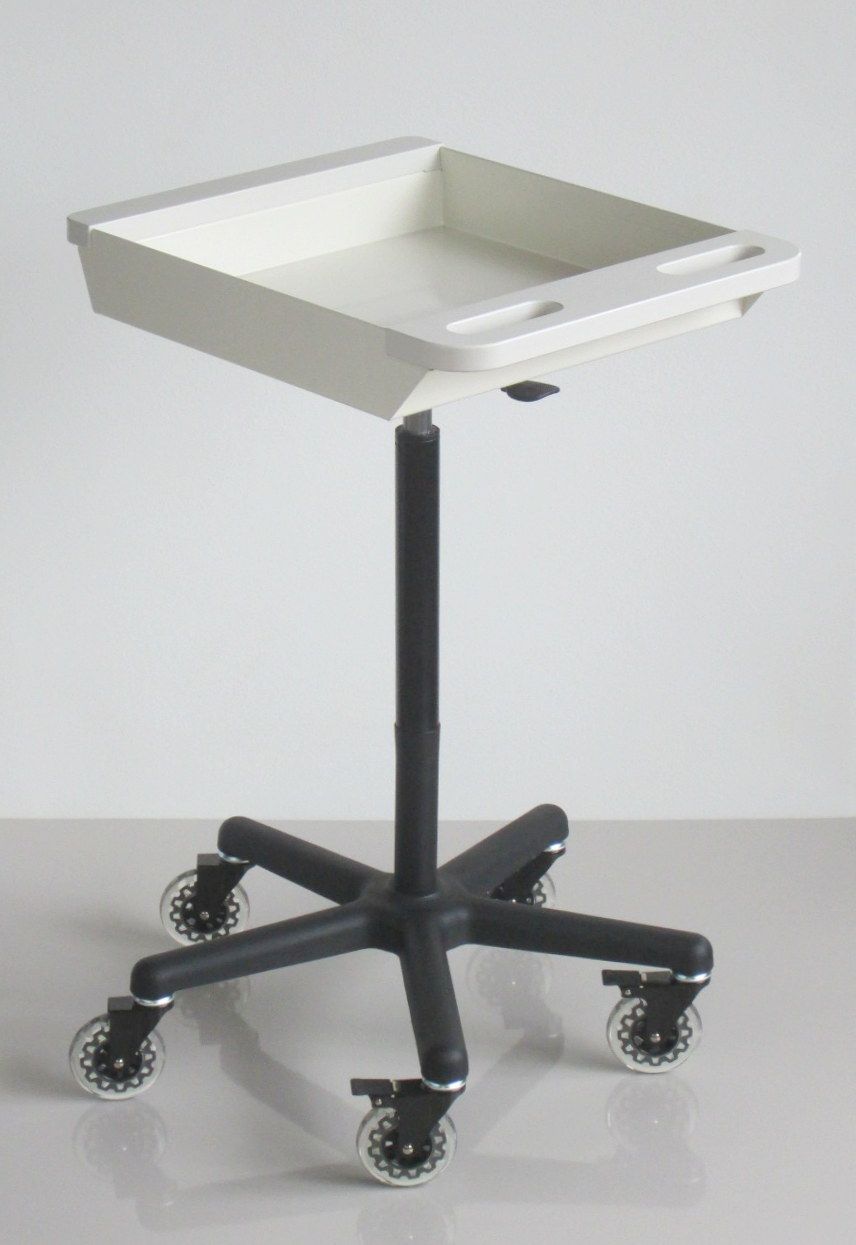 All Supplies on top!
Large phlebotomy caddy accommodates HCL organizational and infection control products including the Roto Rack, test tube / syringe racks, sharps containers, Lock & Locate box, gloves and wipes. Everything you need on one level with thousands of organizational possibilities; or put your existing carry caddy on the cart along with all the other supplies you carry.
Enjoy easy access to all of your supplies from all angles; easily configured and within reach. This is a small cart with huge functionality.
The small size is easily maneuverable in all directions and fits next to beds and in elevators. Rounded corners double as bumpers to protect walls and the cart. Rugged construction for years of use. All surfaces are scratch and stain resistant.
The versatile cart can be used all over the hospital for transporting supplies.
Powder coated steel caddy with square corners provides maximum storage. The deep pan keeps large and small supplies secure in motion.
Handle and bumper are constructed of solid surface marine-grade high density polyethylene. It is environmentally stabilized to eliminate warp, rot and delaminating. Simple wipe cleaning with all common hospital solutions.
Speedy casters enable silent movement over thresholds and onto elevators.
Transports your existing phlebotomy caddy or it can be the caddy.
Overall Dimensions: 23-1/4&quot x 18-1/2&quot
Height adjustable: 34&quot to 44&quot with hand lever
Pan Dimensions: 18&quot x 17&quot x 3-1/2&quot
Packaged in UPS-able corrugated box. No tools required for assembly.
Patent Pending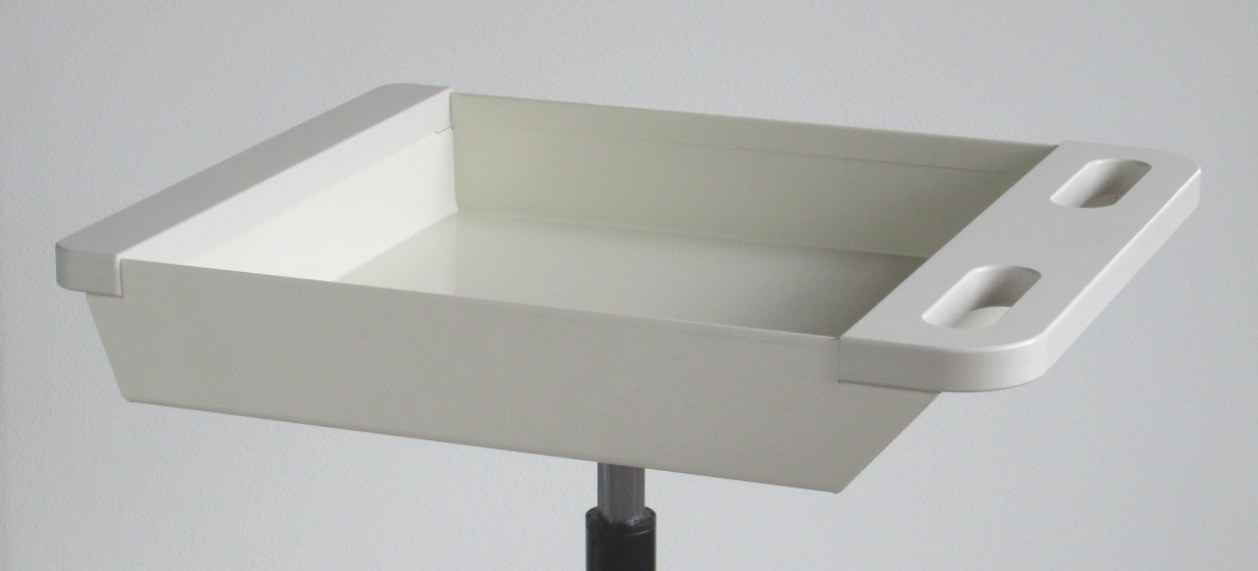 ---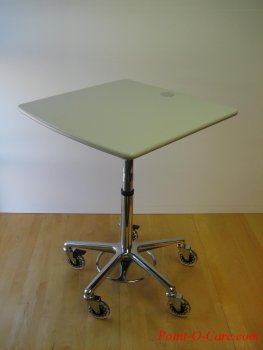 Mobile Care Table
Ideal computer workstation!
Lightweight, compact, affordable, and cleanable!
Generous size table top is perfect for laptops and other equipment. Not too small and not too big. At 24" the cart will easily go through doors and crowded halls. A large grommet hole in the top will help keep cords tangle-free and organized underneath.
Sit or stand to work with infinite height adjustment. Easily change the working height to fit you.
Foot actuated height adjustment. Raise the table hands free. Lean to lower.
Large casters provide silent running into elevators and over thresholds. Easy maneuverability makes cart perfect for point-of-care applications using laptop computers, scanners or other devices.
Easy assembly! Quick assembly! No Tools Required! Plug and Play!
Assembly is so simple you can have the cart built before the UPS driver leaves the building.
Completely cleanable. Materials were chosen that are durable and non-porous to stand up to all standard cleaning methods.
High Quality Materials:
Top is PVC thermoformed MDF.
Column is foot actuated pneumatic cylinder with 10" travel and chrome/black finish.
Base is cast aluminum with bright anodized finish.
High performance casters have clear and chrome finish. Two casters lock and three run free.

Height adjusts from 32-1/2" x 42-1/2"
Table Surface - 24" x 24"
Weight capacity at work surface: 30lbs Overall weight capacity: 2500lbs
Freight costs are reduced by a compact one-piece package. 13" x 26" x 29"

Accessories currently available:...

We are working on additional accessories. Check back soon for more options. Workstation is also incredibly useful in the office, warehouse, and school.
---
Slide Mousing Surface
Right/Left extension is perfect for mousing and charting

The optional slide is constructed of solid polypropylene in a stainless steel track.
Extends 6-1/2" x 9-1/4" on either side of the table for expanded work area.
Slide ordered at the time of cart order to allow factory installation.

The slide surface is removable for fast and easy cleaning.

Mousing Surface for Mobile Care Table