Fairfield Rail System
The Fairfield Rail is a long established equipment rail accessories system installed into countless patient and multi-use rooms throughout the world. The Equipment Rail is made as an anodized aluminum extrusion. This extrusion is cut to lengths from one foot to ten feet in foot increments. Molded plastic end caps finish the ends. Room decor can be accented with coordinating color decorative strip on the front of the rail. Materials are designed to withstand all standard sanitation operations.
All of our accessories are available for this rail mount. New accessories will make your existing rail function like new.
Rail Adapters

These adapters are the hardware that capture accessories to the rail. Most small accessories can be adapted to the rail with the simple purchase/install of one of these adapters.

Single Adapter: 1-1/2" width - for small accessories and when multiple adapters are needed.
Double Adapter: 3" width - for larger accessories requiring greater horizontal stability from a larger footprint.
Adapters are extruded aluminum alloy with a stainless steel hardware assembly. The adapters are installed onto the rail with a snap button and need a rotate/lift to disengage. They will lock to the rail with an allen wrench turned into the hardware.

Adapters can be drilled and/or tapped to infinite hole patterns to accommodate existing accessories. Please contact us for purchase details.

Made in the USA
---
Universal Bottle Slide/Blender Bracket
| | |
| --- | --- |
| | |
---
Basket 18 x 9 x 4

Wire Basket with 3 removable dividers for easy organization of small items or disposable packages. Material is steel with vinly finish. A cleanable and long lasting combination. Stainless steel fasteners attach the basket to an included 3" adapter. Please contact us for purchase details.

Made in the USA
---
Front Load Adjustable Wipes Canister Holder
Hold any common canister with wipes ready to use with one-handed dispensing. Holds all wipes canisters from 3" to 5-1/2" diameter.

Push in full canister and simply pull to remove when empty. When your canister size changes, so does the Canister Holder. Realize significant cost savings by avoiding purchasing and installing unique brackets for each canister shape now and when they change later.

The Front Load Adjustable Wipes Canister Holder profile conforms to the shape of your canister to minimize space requirements. No adjacent space is needed on congested walls and rails.

No tools required for size adjustment. Constructed of durable powder coated aluminum for easy cleaning and longevity.

Available in neutral color wall mount, pole mount (1" to 1-1/2"), and Fairfield rail mount.

Patented Product.

Made in the USA
---
MedSurg & Patient Care Table
This versatile table is ideal as a point of care surface on an IV pole, headwall rail or medsurg rail. Simply flip the surface down for use and slide out of the way when finished.
Components are strong and durable - polypropylene table surface, stainless steel hanger, and powder coated steel clamps and slides. All materials will withstand standard disinfection methods.
These tables are the perfect size for a mayo tray, tablet PC, phlebotomy tray, folder, bin or basket. The surface is 15" x 12".
Made in the USA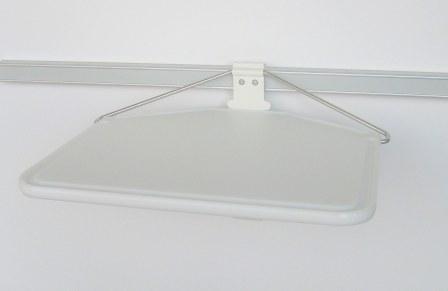 MedSurg & Patient Care Table, IV Pole, Square Front
MedSurg & Patient Care Table, IV Pole, Round Front
MedSurg & Patient Care Table, Headwall, Square Front
MedSurg & Patient Care Table, Headwall, Round Front
MedSurg & Patient Care Table, Wall Mount, Square Front
MedSurg & Patient Care Table, Wall Mount, Round Front
| | |
| --- | --- |
| The MedSurg and Patient Care Table can be adapted to mount to all types of equipment. Contact Us to discuss your unique situation. | |
---
Front Load Adjustable Glove Box Holder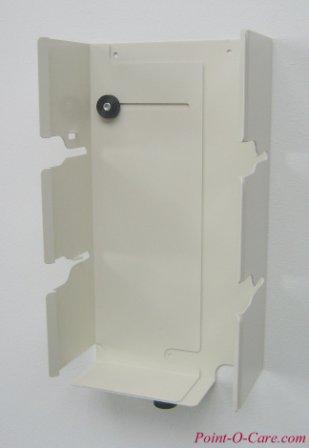 True front loading means no additional space is needed above, below, or beside for replacement of glove boxes. This glove box holder is perfect for crowded work and scrub areas where space is at a premium.

Store and dispense three glove boxes in a single holder. Have the right size available for everyone in a single dispenser.

Boxes can be removed and replaced independently leaving other boxes undisturbed. Replenishing your glove supply in two simple steps; pull out the empty box and push a full box into place. The remaining boxes stay in place when the empty is removed to make changes simple and quick.
This glove box holder is infinitely adjustable from 7-3/4" to 11-1/4" width to fit all sizes and styles of glove box. When your glove contract changes, make a quick adjustment, and get back to work. No tools required for size adjustment. No need to drill additional holes in walls to accommodate new holders.

This holder can also be used to dispense bouffant caps, booties, and other boxed PPE.

Constructed of durable powder coated aluminum for cleanability and longevity.

Available in neutral color wall mount and Fairfield rail mount.

Patented Product.

Made in the USA
---